App Wrapper 4.3 Release
Now available for macOS Big Sur with 46 new features, fixes and improvements.
Tuesday, July 13, 2021 - Sam Rowlands
This post should have been published on July the 6th 2021. Because of site issues, it was delayed.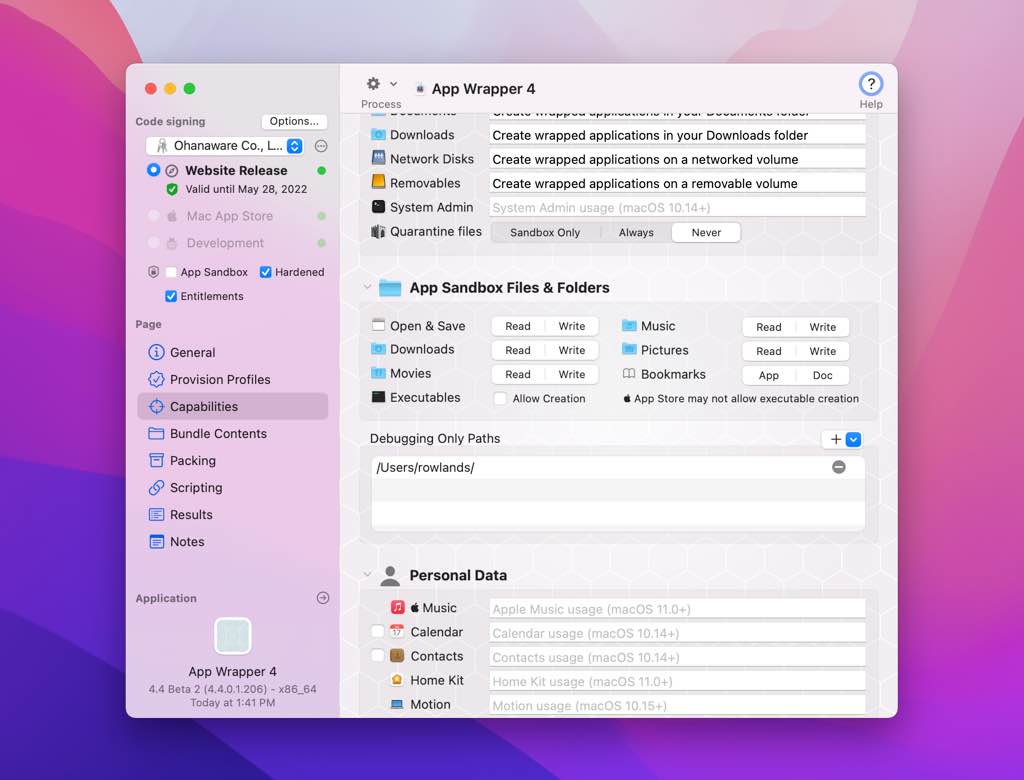 Since 2011 Ohanaware have been developing their premium post-build processor, aiding developers to process their applications for Apple's App Store and Apple's Notarization process. Version 4.0 is the fourth re-write of the product, taking everything that Ohanaware have learned in the last 9 years and re-employing that knowledge to create a modern, more assistive, more discoverable, more capable and importantly, more expandable product for todays post-build requirements.
Version 4.3 includes 17 new features, 12 improvements and 17 bug fixes.
Notable changes to this release.
"Development Release" channel, allowing builds to be shared among developers in the same development team without Notarization.
New Signing Identity selector

Newer "Trust" examination routines.
Displays all Certificates it can find for a team.
Improved diagnostics on Authority Certificates.

Can Add additional items to Zip files or DropDMG made DMG files.
Command Line Tool signing. * Please notes within App Wrapper.
Handles iOS Style Flat Frameworks more elegantly, such as Chromium Framework.
Now uses the Ohanaware App Kit 2021

Improved Animations (with option to disable).
Improved Source Bar.
Improved Stack View.
Improved Partial Toolbar.
Improved Wallpaper Tinting Defocus.
Improved DeleteConfirm popover.
Xojo based listboxes now use Wallpaper Tinting.

Other UI improvements across the board.
App Wrapper 4.3 was built with Xojo, using the Ohanaware App Kit 2021, and wrapped with App Wrapper 4.3.
Compatibility
macOS 10.13.6 High Sierra, macOS 10.14 Mojave, macOS 10.15 Catalina or macOS 11.0 Big Sur.
8GB of RAM.
50MB of disk space.
Xcode 10 or newer.
Pricing and Availability
App Wrapper 4.3 is a FREE update to all participants of the Omegabundle 2021, and to customers with a valid Update Plan. App Wrapper 4.3 is also available from the Ohanaware Website. App Wrapper 4.3 offers a no-obligation 14 Day trial. The RRP of App Wrapper 4.3 is $49.99 (USD) for a single user 1-Year Update Plan. Customers with a valid Update Plan can upgrade to App Wrapper 4.3 at no additional cost. Customers with expired Update Plans can extend their plans for $39.99 (USD). Ohanaware currently uses FastSpring to handle payments on the Ohanaware website.