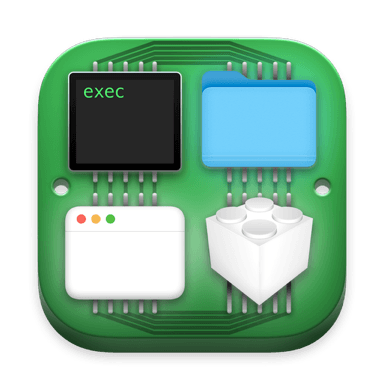 Ohanaware App Kit
Power Up Xojo Made Mac Apps
| | | |
| --- | --- | --- |
| | | App Kit is Mac only. Use a Mac running macOS 10.13.6 or newer to download. |
Version 1.2 - Wed, Dec 23rd 2020
Requires Xojo 2018r3 or newer
Download a Demo
The Ohanaware App Kit is a massive collection of declares, delegates, classes and controls to elevate Xojo made Mac Applications to the next level.
With this kit you're getting the same source code that we use in our award winning Mac applications like our App Wrapper and our photography application HDRtist, or even our little Iconographer Mini.
Which means as we improve our Xojo built Mac applications, we issue App Kit updates, which help improve your Xojo made Mac applications also.
Source Lists
Easily add theme compliant source lists to Xojo made apps, supporting Big Sur's "Inset" and Catalina's "Wide" styles. Listbox based to ease integration.
Stack Views
Create dynamic & scrollable UI from container controls, with elastic scrolling, overlay scrollers, animation and system alternating colors.
toolbars
Adopt the Big Sur Toolbar style and Search field, all while still providing a great toolbar experience for Catalina or below.
grid Views
Like Stack Views, but in a Grid. Featuring elastic scrolling, overlay scrollbars, transparent backgrounds and animation.
destructive buttons
New in 1.2 Mimics Big Sur's destructive button, which can be used anywhere in the app. Great when paired with the deleteConfirmationPopover.
GUI cheat sheet
The GUI cheat sheet, see how to customize regular Xojo controls to get a much larger variety of styles, sizes and even types.

AppleScript
Build Scripts dynamically in code and have your app execute them.

Error Reporting
Makes it super easy for customers to send error reports back to you.

AppKit Menus
Get the system Window menu and a Sandbox safe recent items menu.

Delegates
Capture more events, in a window, toolbar or from a canvas class.

Use SF Symbols
Use Apple's massive SF Symbols library, with a fallback for older OSes.

Image Meta Data
Read an write image data from Xojo applications, without bulky libraries.

System Colors
Preview & gain access to Apple's predefined colors for custom controls.

System Information
Access vital info about the computer to provide a better experience.