$200

developers kit

Full source code to the Ohanaware App Kit, helping developers to build better Mac apps with Xojo.
1-Year App Wrapper update plan.
Suitable for one user (3 activations)
365 days of updates
$175

Just the App Kit

Full source code to the Ohanaware App Kit, helping developers to build better Mac apps with Xojo.
365 days of updates
a few Highlights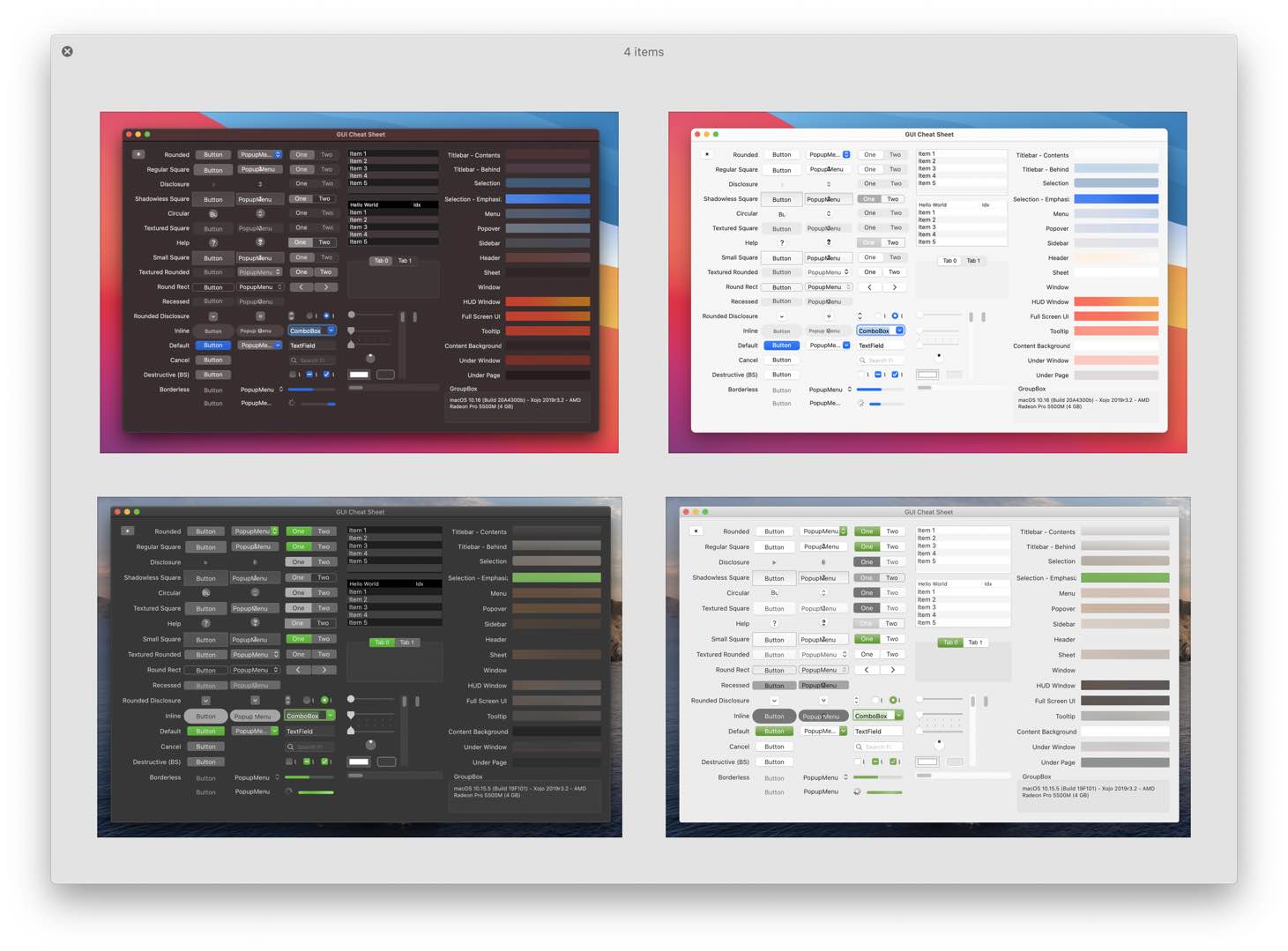 Now includes GUI Cheat Sheet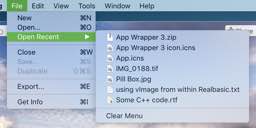 Standard "Recent Items" & "Window" menus.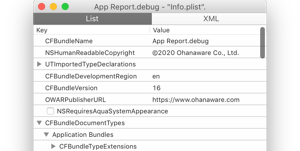 Xojo Listbox with overlay scrollers and "elastic" scrolling.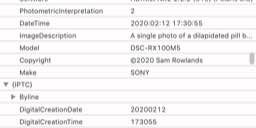 Read & write Image meta data from multiple formats.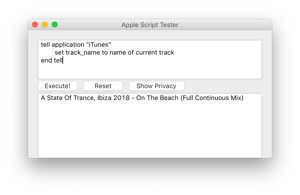 Execute Apple Script and handle privacy changes.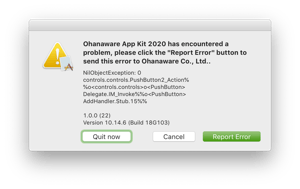 Error Reporting system, helps make more stable apps.
What is it, why is it special?
The Ohanaware App Kit 2020 is a collection of declares and convenience classes that we (Ohanaware) have created over the last decade or so. Which we've then wrapped up into this kit to help other Xojo developers create better Mac Apps, through access to functions and technology that is possible out of the box.
1

We are mac devs

We use this code in our award winning apps like App Wrapper and HDRtist.
2

mo powa babeh

Declares in this kit are the fastest way we know to access Apple's API from Xojo.
3

efficiency

Unused declares are stripped, smaller apps, faster launches & less memory.
4

integrity

Embed this kit in a project and it doesn't change until you want it to.
5

Convenience

Includes classes & functions, making it quicker & easier to use Apple's API.
6

Source code

Explore, learn, customize, hack, optimize, improve, personalize this kit.
macOS Big Sur
Coverage and preparation
What's new in 1.1
Now includes Valdemar De Sousa's Picture Button.
folderItemReference object, which keeps track of a folderItem while the application is open.
Now Includes a beta version of the OWStackView class.
OWSourceList.listSizeValues.systemSetting - Uses the system setting for the source list size (currently doesn't auto update when the system changes).
OWLargeButton - This is more of a demo really on how to use the System API to create buttons.
OAK2020.dragHelper global property to compensate for whereby a Xojo application cannot access the initiator of a drag.
NSSliderSetVertical( instance ) = value - Allows a slider to made vertical on macOS.
NSImageFromName - now handles complete and partial paths.
NSGraphicsContextSetImageInterpolation.
NSSavePanel Now uses the Xojo provided Block handler with Xojo 2019.02 or newer.
window.title( mainTitle, subTitle ) - for setting the maintitle and subtitle.
NSGradientinitWithStartingColorendingColor - For creating a NSGradient.
NSGradientDrawFromPointToPointOptions - For drawing a linear gradient.
NSGradientDrawsBeforeStartingLocation
NSGradientDrawsAfterEndingLocation
kNotificationNSAppearanceChanged - Default notification to use in your apps to handle the appearance changing, including the selected accent color. Requires issuing on the appearance changed event of the application, and capturing using the OWNotificationListener protocol.
NSGradientInterpolatedColorAtLocation - Returns a color from a NSGradient at a certain position.
NSColor_setStroke - Sets the selected NSColor as the stroke color.
NSMenu_itemAtIndex
NSWorkspaceRecyleURLS
NSAppleScript will now raise an exception when it's called from a Xojo thread. This is because on some installations of Catalina it crashes, but not all and we don't have any indication as to why at the moment.
Updated the example for adjusting a window to when it changes screens.
Updated NSTextFieldEditable to be NSTextFieldSetEditable
Added NSTextFieldEditable for getting the editable state.
NSOpenPanel
Fixed an issue when displaying a NSSavePanel or NSOpenPanel from a containerControl.
Date.DayInTime
NSSavePanel2019.allowedFileTypes now uses allowedContentTypes on macOS 10.16 Big Sur.
NSURLisFileReferenceURL
NSURLisFileURL
NSURLFileReferenceURL
NSURLFilePathURL
What's covered?
Below is not a complete list, just what we've written documentation for at the time of releasing version 1.0. Complete documentation is included with the package. This should give a fair idea of the depth that is covered by the Ohanaware App Kit.
Animation
NSControlAnimator
CoreAnimation
Canvas animation
ScrollView Animation
Window animation
NSShowAnimationEffect
Application object
Application Icon
Display Version
Display Name
Recent Items Menu
Dock Badges
Sudden termination
Automatic Windows menu
Apple About Box
Multiple files dropped onto App icon
Application is hidden or unhidden
Launch arguments
Reading properties from app's plist
Bounce icon in dock
Handling URL schemas
Apps that are running
List of running applications
Current Application
Getting information
Interacting with
App Nap
App Report
What is App Report?
Integrating into an app
App Sandbox
Determining if the application is Sandboxed
Window Restoration
Recent Items Menu
Security-Scoped Bodgemarks
Launching included Applications
Interface to choose photos/videos
Using shared memory
Apple Script in a Sandboxed application
Apple Script
Apple Script in a Sandboxed application
Apple Script in NON-Sandboxed app
Execute shell commands with authorization
Controls
CoreAnimation
Precision scrolling
Scrolling inertia to provide a bounce back
Capturing contents as an image
Capturing contents as PDF
Setting a shadow on a control
Button
Canvas

Configuring Delegate
Rotation gesture
Magnify gesture
Smart Magnify gesture
A Swipe style gesture
Adding animation
Custom Focus Ring

Color Well

Adding a Color Well
Events
Methods
Properties

Image Well

Removing the border
Auto resizing images
Setting a system image

Listbox

Transparent background
Drawing system images.
Alternating row colors
Invalidate row
ScrollView

NSControlAnimator

Animating movement of controls
Methods
Shared Properties
Timing Functions

Popup Menus

Action menu
Setting icons
Setting the style
Setting tool tips on items

Scrollbars

Overlay "Style" Scrollbar
Events
Methods
Properties
Style options

ScrollView

Adding a scrollView
Using with a Canvas
Using with a Listbox
Selection Rect
Methods
Properties

Sliders
Search field

Adding a Search Field
Events
Properties
searchActionOptions

Segmented Controls

Setting icons
Image scaling
Selected Item Index

Text Areas

Style controls
Auto link handling
Auto dash handling
Auto Quote handling
Auto text replacement
Loading RTFD data
Saving RTFD data
Handling images

Visual Effect Views

Adding to a window
Adding to a canvas
Function description
Additional Functions
Materials
Blending Modes

Window Splitter

Adding to a Window
Events
Properties
Enums
Email
Create a text based e-mail
Create a "Feedback" e-mail
Create an e-mail with a file attachment
Errors
Handling NSErrors
Reporting exceptions
Debugging a NSException
Finding crash reports
Files
File Icons
File icons from name
Finding an App by bundle identifier
Opening a file in a specific app
Creating a Symbolic Link
Creating a Hard Link
Creating a Bookmark file (Alias)
Sending to Trash/Bin
Revealing in the Finder
Getting display type from a file
Atomic file saving
Spotlight data
UTI information
Xattrs
Finder Tags
Fonts
System Font Name
System Font Sizes
Font Weights
Replicating older OSes
WYSIWYG font menu
Graphics
Clipping to a vector path
Theme colors
Possible colors
Tiling a texture
Dropshadows
Transparency Layers
Drawing system supplied icons
Gradients
Erasing content
Images
Different image objects
Drawing CGImages & NSImages
Converting between image objects
System supplied images
Image names
Loading images with CoreGraphics
Reading image meta data
Writing images & meta data.
Quickly getting the thumbnail from an image
Getting actual bytes of an image
ICNS, ICO or Tiff for multi-image retina assets
Creating a multi-image file
Creating a HEIC image file
Menus
Setting icons
Alternative items
Recent Items Menu
Close All menu
Automatic Windows menu
Full Screen MenuItem
About this application
Notifications
Handling OS issued Notifications.
Notifications between Xojo Objects
User visible Notifications
Preferences system.
Supported Data Types
Saving Preferences
Reading Preferences
Saving & Restoring Window locations
Removing a Preference
Removing all preferences for an app
Property Lists
Reading plist files
Writing plist files
Reading plist data
Creating plist data
Save Dialog
Adding a NSSavePanel to your app
Adding custom options
Shared Memory
Setting up with the parent/controller app
Accessing from the helper application
Sharing Services
Building a list of services
Sharing the users data
Handling the sharing delegate
Did the share fail or succeed?
Attaching to the window
System Information
OS Version
Testing OS Version
Testing OS functionality
Installed memory
Uptime
Computer is to enter or exit sleep
Disks are connected or removed
Responding to the system theme change.
How many active cores are available
Thermal state of the machine
Computer name
Toolbars
Controls on the Toolbar
Customizing the appearance
Using system icons
User
Username
User's name
User's Language
Media Browser
Windows
Built-in animation
Customizing the appearance
Auto Tabbed Windows
Obscured from the users view
Moved screen
Clamping window size to the screen
Entering Full Screen
Customizing the full screen experience
Exiting Full Screen
Started to move
About to Resize
Adjusting the location of sheet windows
App Store style window example
Adding a Visual Effect View to a window
Automatically restoring when app re-opens
Making a Pallet window that auto-reopens and recalls it's position
Zip Files
Creating Zip files
Extracting Zip Files
Exploring a Zip file
Reading a file inside a zip