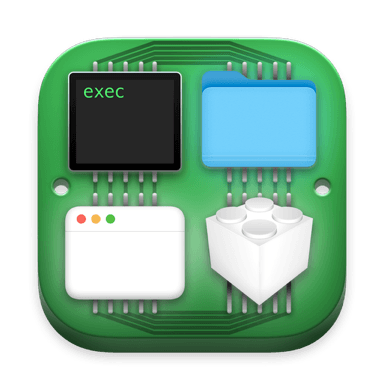 Ohanaware App Kit
Build incredible Mac Apps
that your customers will Love
| | | |
| --- | --- | --- |
| | | App Kit is Mac only. Use a Mac running macOS 10.13.6 or newer to download. |
The Ohanaware App Kit does not work with Xojo's "API 2.0 DesktopControls"
We're very sad to announce that we will no longer be updating the public version of OAK. While OAK had very enthusiastic supporters, it sadly wasn't enough to help it compete with the incumbent "Plugin" option, against the backdrop of needing serious re-writing to be compatible with Xojo's nonsensical "DesktopControl" renaming.
If Xojo choose to implement certain features that would alleviate the difficulties and need for maintenance of two separate versions of OAK, we may re-consider.
This page will remain as a reminder of what could have been if Xojo's energy was focused on expanding the capability of their development tool.
Version 2021r3 - Thur, Sep 9th 2021
Requires Xojo 2019r3 or newer
Download Demo
$200

Xojo developer kit

Full source code to the Ohanaware App Kit, helping developers to build better Mac apps with Xojo.
1-Year App Wrapper update plan.
Suitable for one user (3 activations)
$175

Just the App Kit

Full source code to the Ohanaware App Kit, helping developers to build better Mac apps with Xojo.
Mac App Template, speeds up new projects.
The Ohanaware App Kit 2021 Release 3 is an incredibly exciting update to our Xojo Add-on that helps hundreds of developers to create compelling and modern Mac User Interfaces with the Xojo development environment.
This massive collection of declares, delegates, custom functions and User Interface elements is what we at Ohanaware use to drive the UI in some of our most successful products, App Wrapper, Aqua Swatch, Iconographer Mini, Permissions Reset and HDRtist.
Every customer of the Omegabundle 2021 automatically gets a license to this growing toolkit, which includes a demo application allowing customers to see the objects in action, tinker with the settings, but also figure out how to include these elements into their own Mac applications. Starting with Ohanaware App Kit 2021 we also include a "Mac App Template" which is preconfigured with the Ohanaware App Kit 2021 and awaiting your next exciting Mac Application.
Demo ProjectThe code used for the demo application is included in this kit.
Full Source CodeNo locked modules, only pure code, which can be learned from it or adapted
Mac App TemplateStart the next Xojo project with Ohanaware App Kit all ready to go
We use this CodeIn our own award winning apps like App Wrapper, HDRtist, Permissions Reset
Destructive ButtonUse the Big Sur Destructive Button anywhere with this control
Delete ConfirmConfirm with customers, they know their data ain't coming back
File WellsA purpose built control for customers to drag files into, or drag files out from
Flex ViewsBuild dynamic, scalable and scrolling interfaces with this exclusive control
OWListboxSupports Wallpaper tinting, Overlay scrollers and Embedded controls
Partial ToolbarWorks with full-height sidebars to give an app have that Big Sur look
ScrollersUse Overlay style scrollers throughout the UI of a Xojo made Mac App
SwitchesOur version uses Apple's when available and matches it for older OSes
Wallpaper CoverHelp your users in Big Sur, by making the in focus window opaque
App Store and App Sandboxing aids
NSTaskLaunch bundled helper apps safely using Apple's security subsystem
Recent ItemsUtilize this menu to make it easy for users to re-open documents
ResumeRestore files and windows on application re-open, keeping access to open files
BookmarksApple's secure way of retaining access to files or for creating Aliases
Shared MemoryAllow helpers to access large amounts of data without the file system
Make UIs the most Mac Like they've ever been.
AnimationControl animation, Canvas animation & Window animation
CALayersProvides GPU driven basic imagery with support for animation
ColorsUtilize the system supplied theme compliant colors in your apps
Color PickersUse the system supplied color picker, inc Catalina's Color Sampler
CursorsUse the built-in macOS system cursors in Xojo made apps
Dark ModeForce your app or parts of it into Dark Mode on 10.14 and above
File IconsUse the same icons as the Mac Finder in listboxes, buttons, imagewells
Font SelectorSupports WYSIWYG display, variation selector and locale filtering
Full Color IconsAdd the option for the customer to choose between outlines or full color icons
GraphicsRotation, repeating patterns, Marching Antz, system functions
HUD WindowsSmall unobtrusive windows to display content or basic controls
Image PreviewsCreate image previews super fast and without having to load the entire image
Image WellsAre more flexible than you think, unlock more potential in a Mac App
LabelsUse the system supplied colors & text styles to match other apps
Level IndicatorsA system supplied control for showing levels in various styles
MenusTake advantage of built-in menu handlers to empower your Mac apps
Message DialogsUse Destructive buttons & checkboxes in Message dialogs
NotificationsDisplay & react to User Notifications directly from a Xojo app.
Open File DialogsCustomize the Open File Dialog with more options or embedded controls
Prefs WindowDefault Window configured to match OS themes and includes some UI options
PinstripesAdd a classic Mac OS X UI to Xojo made Mac apps, with Prefs option to enable.
PopoversUse a popover to attach more options, confirmation to a control or UI element
Progress WheelDoes more than just spin undetermined, it is a full circular progress indicator
QuicklookUse Quicklook to provide previews of files in a Xojo Mac App
Quicktime PlayerHow to use the Apple "Quicktime" player within a Xojo Mac App
Save File DialogsEnable a bunch more options, while embedding additional controls
SF SymbolsUse macOS 11's icons in buttons, menus, listboxes & other places
Scroll ViewProvides a scrolling UI for a single canvas or source list
Search FieldsUse with earlier versions of Xojo and Big Sur toolbar search field
SlidersExpose more functionality including vertical and circular sliders in a Xojo app
Source ListsAdd a macOS Staple allowing easy content selection
SplittersAdjust content separators, using system icons and cursors
Stack ViewsBuild theme consistent dynamic vertically scrolling UIs
System ImagesUse system supplied images to help make an app consistent with the OS
Text AreasUtilize a wealth of options to improve text input and help users
Tabbed WindowsUse the system tabbing functionality, or to disable for some or all windows
ToolbarsCustomization options galore, how to use Big Sur search field
VibrancyExamples on how to adopt Apple's Vibrancy through a Xojo made Mac app
Window OptionsA ton of options to help make App windows better fit the purpose
Stand out Mac Apps, start with OAK
AliasesCreate Aliases & Symlinks. Process actual Aliases and not resolved files
App InfoArchitecture, Icon, Identifier, Copyright, Code Signing & Publisher
App NapControl how the OS manages your app in the background
Apple HelpDisplay Apple Help in your Xojo app (App Wrapper can convert html)
AppleScriptDynamically create and execute AppleScripts from Xojo
Atomic File SavingProtect against data errors by letting the OS replace a file once written
Auto SaveExamples on how to autosave adhering to user options in System Preferences
ClipboardAdd Folderitem support, plus the ability to inspect the clipboard
Error ReportingCapture Exceptions and make it easy for user to mail info
E-mailSend e-mails from users e-mail app, attachments via  Mail
Event MonitorCapture mouse & keyboard events, even in the background
File ActionsShow in Finder, Move to Trash and others
File InformationRead system info on files, includes xattrs, Finder Tags and more
Haptic FeedbackProvide feedback when aligning items, adjusting items
IOExceptionsHelp the customer understand and troubleshoot file related errors
Image ExportingTo more formats, providing control over the colorspace and images's meta data
PreferencesTake advantage of the built-in system for managing user settings
Property ListsRead, write and process files using the .plist format
Sharing ServicesShare customer content with Apple apps & services
SpotlightAccess all the info Spotlight has on a folderitem
System InfoArchitecture, hardware info, version, heat & power state
User InfoName, accessibility, theme, favorite e-mail app and more