Does your Mac have
trouble sleeping?
Battery drain during sleep

Use Sleep Aid to see why your Mac loses battery when you're not using it.

Screen, keyboard or mouse flashing

Sleep Aid helps figure out why your Mac lights up at night, and how to stop it.

Instantly wakes on sleep

Sleep Aid can diagnose why your Mac keeps waking up, & helps to fix it.

Mac won't go to sleep on its own

Use Sleep Check to see which settings or apps are keeping your Mac awake.

Mac gets warm or hot during sleep

Sleep Aid will show you what your Mac is getting up to, making it all heated up.

Headphones wake my Mac

Use your headphones with the TV or Phone, but Mac wakes instead. Sleep Aid can help.
Diagnose & Solve Mac sleeping issues with Sleep Aid
Diagnose Mac Sleep Problems
On wake, Sleep Aid sifts through Power Management messages and settings, Looking for anything it considers to be abnormal.
When the Mac was pretending to be asleep.
When the Mac suffered Unusual Insomnia, Excessive Insomnia and Long Insomnia
When the Mac awakes shortly after being sent to sleep.
When the Mac was woken by Notifications, Bluetooth, Siri and others.
When Sleep Settings, Sleep Aid or the macOS was changed.
Sleep History
The "Sleep History" makes it easy to see what your Mac is doing while you're away, it displays sleep events in a familiar calendar form.
Selecting a sleep event, reveals details and suggestions in the sidebar of the window.
Overview

The Overview panel of the "Sleep History" can display items that Sleep Aid determines are potential problems, Insomnia reasons, Screen Wake reasons, and includes a chart of daily insomnia time.
Insomnia Activity

Select an insomnia event in the History View to see which apps or services needed your Mac to be awake, and for how long.
Efficient Updates
When updating, Sleep Aid will only download the specific app for your Mac. Saving time, electricity and storage space.
Sleep Check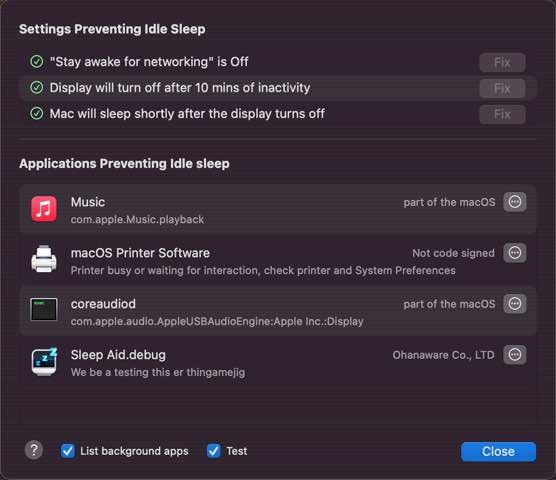 The "Sleep Check" window can be used to check certain sleep settings or applications that might be keeping your Mac from falling asleep. Settings can be fixed there and then, while app must be manually quit.
Better Sleep Controller
The "Better Sleep Controller" within Sleep Aid enables Sleep Aid to disable some system services when the Mac screen goes off, helping the Mac to fall asleep, and to sleep more soundly. Those services are then re-enabled on wake.
Disable Bluetooth during Sleep
Sleep Aid can switch off Bluetooth during sleep, which prevents bluetooth devices from waking your Mac, devices such as headphones, mice, tracking tiles and others.
Sleep Settings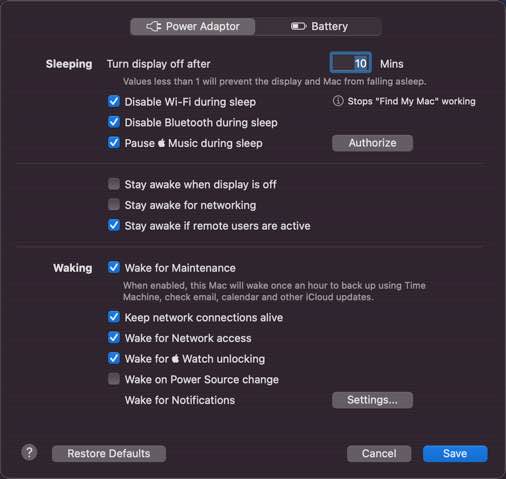 Use the "Sleep Settings" window to disable or enable sleep related options or configure the "Better Sleep Controller". Which can help to resolve Sleep troubles, or simply reduce the amount of times the Mac experiences insomnia when it's not in use.
14-Day FREE trial
Take advantage of the no-obligation 14-Day FREE Trial today, see if Sleep Aid can help your Mac get better rest. At the end of the trial, purchase a license to continue enjoying the benefits of Sleep Aid.

download Now
No-obligation FREE trial requires no details to test the product, nor will any payment automatically be taken at the end of the trial.
What's Included?
With every purchase of a Sleep Aid license, you get 1-Years worth of Sleep Aid updates and support. At the end of the license, simply renew to keep receiving the latest versions and support from Ohanaware.

Buy Now
Licenses require manual renewal. If a license is not renewed, customers can continue using the last version they're entitled to.