Ohanaware App Kit 2021 Release 2.1
Minor update to our popular Mac App enhancing kit for Xojo
Monday, August 2, 2021 - Sam Rowlands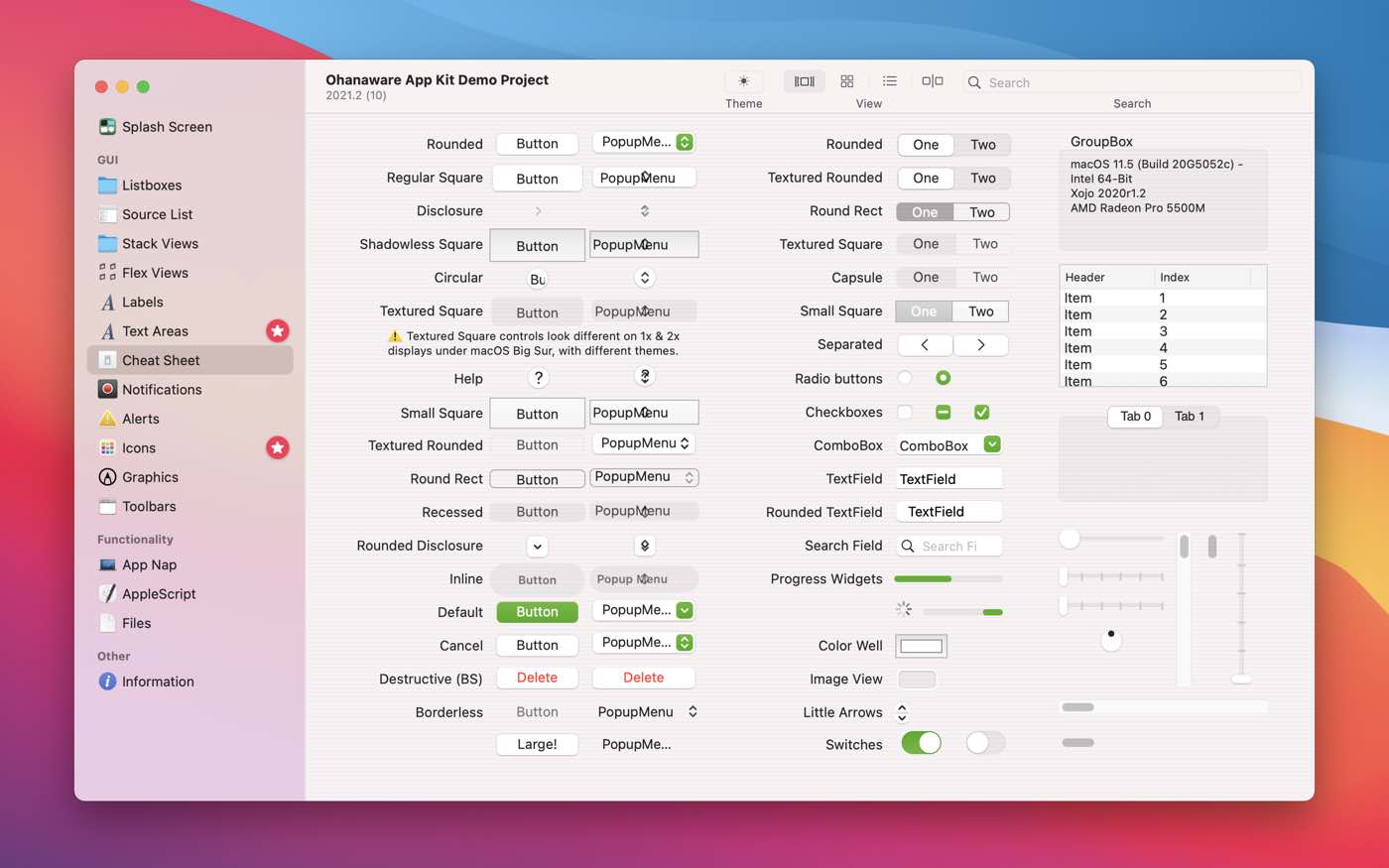 The Ohanaware App Kit 2021 Release 2.1 is a minor update to our Xojo Add-on that helps hundreds of Xojo developers to create compelling and modern Mac User Interfaces with the Xojo development environment.
This massive collection of declares, delegates, custom functions and User Interface elements is what we at Ohanaware use to drive the UI of some of our most successful products, App Wrapper, Aqua Swatch, Iconographer Mini, Permissions Reset and HDRtist.
Every customer of the Omegabundle 2021 automatically gets a license to this huge toolkit, which includes a demo application allowing customers to see the objects in action, tinker with the settings, but also figure out how to include these elements into their own Mac applications. Starting with Ohanaware App Kit 2021 we also include a "Mac App Template" which is preconfigured with the Ohanaware App Kit 2021 and awaiting your next exciting Mac Application.

What's new in 2021 Release 2.1
Add System options for Colorizing icons in some controls on macOS 10.14 or newer.
Add OWWallpaperConcealer now listens to the notification of theme change.
Add Added support for the macOS Find Panel and Find Bar.
Add IOExceptionMessageMake tries to make a more usable errorMessage from the Exception.
Add app.infoIsCodeSigned as boolean.
Add clipboard.folderitemAvailable to detect if a folderitem is on the clipboard.
Add clipboard.folderitem getter and setting for folderitems on the clipboard.
Add Add Link... Menuitem which adds links to a TextView.
Add Show Fonts... Menuitem allowing for the system font picker to show up.
Imp msgBoxError function can now take a folderitem, offering the user to option to reveal the file.
Imp folderitem.showInFinder will now show parent folder if file doesn't exist.
Fix Fixed a bug whereby the NSVisualEffectView would cover nested elements.
Fix Fixed a Typo on the GUI Cheat Sheet.
Fix Fixed a bug with Marching Antz and certain versions of Xojo.
Fix Fixed a bug in the FileOpen menuitem handler of the Mac App Template.
Fix OWWallpaperConcealer will now allow an update even if it is already blocking a window.
Fix OWWallpaperConcealer no longer crashes if the window returns a canvas instead of a window.
Fix OWPartialToolbar now has correct height with Xojo 2021r2.
Version Changes for 2021 Release 2 can be found here
Ohanaware App Kit was built with Xojo, and the demo application was wrapped with App Wrapper.
Compatibility
macOS 10.13.6 High Sierra, macOS 10.14 Mojave, macOS 10.15 Catalina or macOS 11.0 Big Sur.
Xojo 2019r3 or newer, it should work on previous versions.
Pricing and Availability
Ohanaware App Kit 2021r2.1 is a FREE update to all participants of the Omegabundle 2021 and is exclusively being sold as part of the Omegabundle 2021, which includes App Wrapper 4 and the best Xojo Add-ons available today.