THE LATEST WEAPON IN YOUR ARSENAL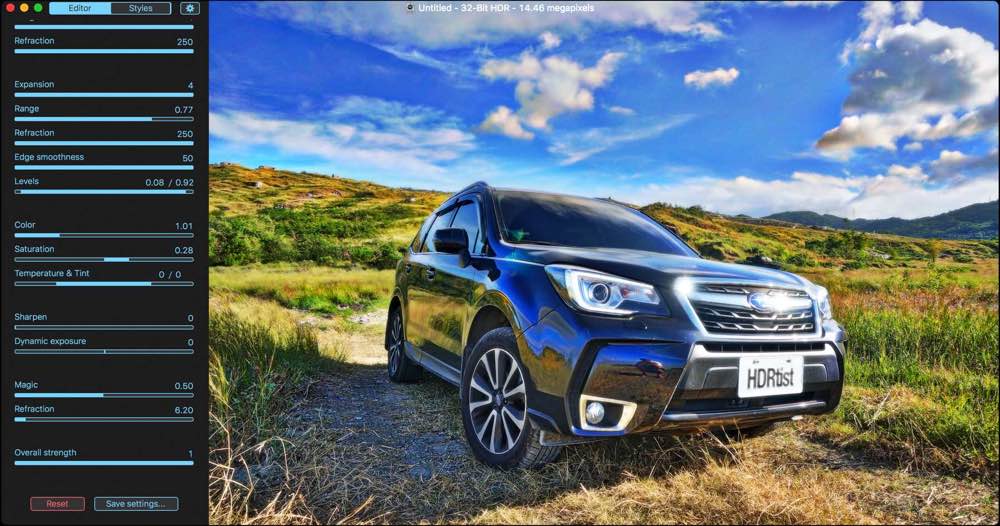 3 Exposure 128-Bit HDR merged & edited in HDRtist NX. Mouse over the image to reveal the unprocessed medium exposure.
Minimum system requirements
2012 Mac with i5 processor & macOS 10.10 - 10.11 recommended
4GB of RAM - 8GB recommended
Note: Core 2 Duo machines should run 10.11 El Capitan.
HDRtist Pro upgrade program
If you have HDRtist Pro registered and installed on your computer, simply download the latest version and it will automatically offer you the upgrade pricing.
If you do not have HDRtist Pro installed and registered on your computer or you purchased after December the 1st 2016, Use the e-mail address upgradetohdrtistnx@ohanaware.com to contact us and include a copy of your original purchase receipt or serial number.
What is HDR and HDRtist NX?
HDR stands for "High Dynamic Range Imaging". Long story short; it's a means of compensating for digital cameras not being able to handle as much light as the human eye. HDR works by 'compressing' a wider range of light into a range that can be displayed on computer, phones, tablet and TV screens.
HDRtist NX is the third installment in the HDRtist series of applications that we started back in 2009. NX is our absolute latest and most advanced, featuring technology that we've been improving since 2009, and brand new tech that we've developed in the last few years. Its a massive accumulation of our dedicated research and development.
HDRtist 2009

Sole purpose of HDRtist was to bring HDR to the masses, making HDR as popular as it has become today
HDRtist Pro 2011

Ohanaware's first HDR application to use 128-Bit precision image processing & of course 1-Click Styles.
HDRtist NX 2017

100% all new code, new generator and new tone mapper, same great 128-Bit Precision, & new 1-Click Styles
fresh interface, strangely familiar
Futuristically inspired, yet easy & fun to work with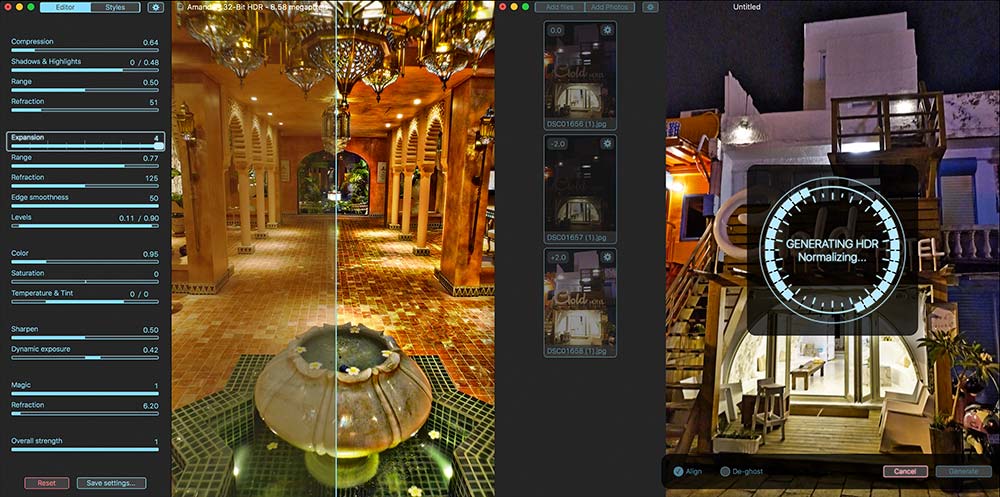 Next generation futuristic interfaceWith HDRtist NX, we wanted to not only give next generation results, we wanted it to feel like a next generation app, this required extensive research, prototyping & development of a futuristic interface.
Large live preview with split viewThe preview in HDRtist NX is 30% bigger than other apps, providing the biggest, brightest and most beautiful editor. Split-view allows direct comparison between the processed and unprocessed image.
Single images & iPhone HDRsWhether you shoot multiple exposures, are a iPhonetographer or looking to boost that one image you took, HDRtist NX covers both. iPhone HDR and other in-camera HDR images are great, with NX they become amazing.
Built-in sharing functionsAnother cornerstone feature of Ohanaware apps is built-in sharing to popular social media sites & HDRtist NX is no exception. NX utilizes Apple's sharing, so as more services are added, NX already supports them.
save time by using one-click styles
use one-click styles as a base. create & share your own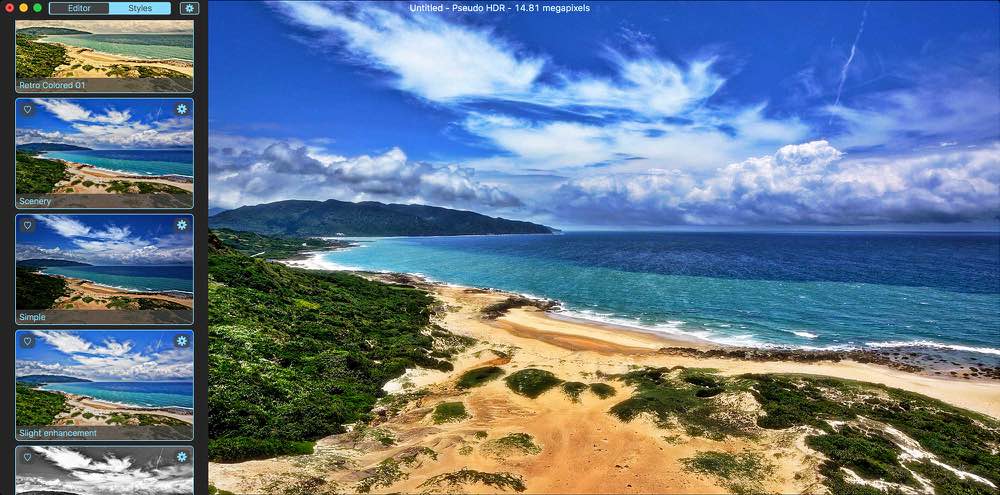 Built-in 1-Click StylesA built-in library of pre-designed styles that can be applied to HDR images. HDRtist NX 1-Click Styles include a real preview of what the style looks like applied to the image. Customers can also create and share their own styles.
Master slider & fine controlIn '09 our first HDR application featured one slider that made it easy to flick between styles. With NX it makes it's triumphant return; only this time it's backed up by fine control over each and every setting.
Multiple, single images, iphone hdrs
hdrtist nx is the tool for hdrs of all shapes and sizes
taste the future of hdr processing
there's so much already in hdrtist, plenty more to come
Turbo charged 128-Bit processingThe image processor in HDRtist NX was designed to take advantage of multi-core processors and accelerated graphics hardware to manipulate the highest dynamic range of 128-Bit floating point per pixel, as fast as possible.
Editable HDR imagesSave an HDR in the HDRtist NX format and it can be edited later on. This includes changing of the settings, cropping, rotation and even regenerating the base HDR from the source images.1
Magic version 3.0In 2014 we created "Magic", which brightens the luminosity, boosts the vibrancy of the colors & reduces small imperfections. NX features the latest version, which makes HDR images all that more magical.
Apple Photos supportGetting images from Apple's "Photos" application into HDRtist NX couldn't be simpler. All that's required is to drag the chosen images from Apple's "Photos" and drop them into the HDRtist NX window.1
Large image supportWhether you shoot with an iPhone or the latest DSLR, we've successfully processed images as large as 50 megapixels, 75 megapixels and even a 101 megapixel HDR image (which was processed in under 1 minute).2
Value for moneyHDRtist NX presents all the above mentioned features and more in a convenient integrated package for the low price listed above. It's also an investment as we have lots planned for HDRtist NX, which you'll get for free.
The start of something beautifulWhat you see today with HDRtist NX, is only the start. We've created some really great HDR imaging tech that we'll be adding into HDRtist NX along with further optimization & improvements to the usage of the application.
Accumulation of years of researchSince 2009, we've been bringing our magic to HDR processing and NX is no exception. For the last 3 years we've been working on this next generation HDR imaging platform.
1. Due to how Apple's "Photos" works; HDRs created via dragging images from Apple's "Photos" and dropping into HDRtist NX cannot be regenerated at this current time. A future update should workaround this limitation.
2. Test carried out on a 2012 Retina MBP with 16GB of RAM and 1GB of GPU memory. Actual processing times are dependent upon the machine's memory, graphics card and processor. A 50 megapixel image on a 8GB 2015 MacBook took 3.5 minutes to process.