App Wrapper 4.3.1 Release now available
5 issues resolved in this release, including a workaround for macOS 11.4 customers.
Wednesday, July 21, 2021 - Sam Rowlands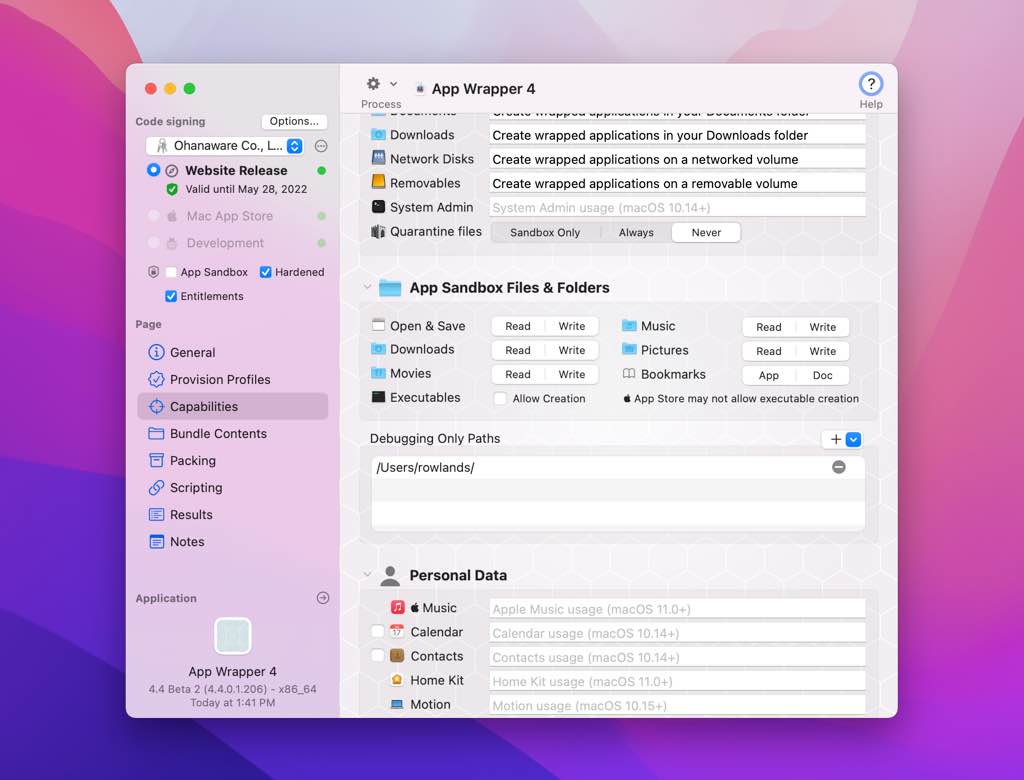 Since 2011 Ohanaware have been developing their premium post-build processor, aiding developers to process their applications for Apple's App Store and Apple's Notarization process. Version 4.0 is the fourth re-write of the product, taking everything that Ohanaware have learned in the last 9 years and re-employing that knowledge to create a modern, more assistive, more discoverable, more capable and importantly, more expandable product for todays post-build requirements.
Fix Fixed a crash that could occur on re-opening some windows a second time.
Fix Fixed a bug where the "Pack" action menu item wouldn't have an icon.
Fix View → Clear Results is no longer enabled when AW is busy.
Fix Changed the way how AW sends passwords to Apple API to avoid complications with KeyChain on some installations of macOS 11.4.
Fix Fixed an error that can occur when dragging in DMG images to be Notarized.
App Wrapper 4.3.1 was built with Xojo, using the Ohanaware App Kit 2021, and wrapped with App Wrapper 4.3.1.
Compatibility
macOS 10.13.6 High Sierra, macOS 10.14 Mojave, macOS 10.15 Catalina or macOS 11.0 Big Sur.
8GB of RAM.
50MB of disk space.
Xcode 10 or newer.
Pricing and Availability
App Wrapper 4.3.1 is a FREE update to all participants of the Omegabundle 2021, and to customers with a valid Update Plan. App Wrapper 4.3.1 is also available from the Ohanaware Website. App Wrapper 4.3.1 offers a no-obligation 14 Day trial. The RRP of App Wrapper 4.3.1 is $49.99 (USD) for a single user 1-Year Update Plan. Customers with a valid Update Plan can upgrade to App Wrapper 4.3.1 at no additional cost. Customers with expired Update Plans can extend their plans for $39.99 (USD). Ohanaware currently uses FastSpring to handle payments on the Ohanaware website.