Omegabundle for 2020
Essential add-ons for Xojo developers
Wednesday, September 9, 2020 - Sam Rowlands
September the 9th 2020
And that's it folks for this years Omegabundle. We hope that y'all enjoyed the benefits of this years bundle. It was really great for us as we debuted the Ohanaware App Kit with this years bundle and I was shocked by how much interest there was for the Ohanaware App Kit. I am so happy that there's so many people out there who want to take their Mac apps to the next level, but didn't know how.
September 2nd 2020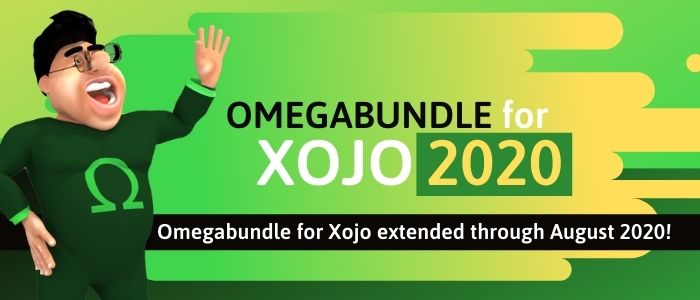 August 4th 2020
Bundle extended throughout August.
July 30th 2020
The bundle ends tomorrow, if you've been thinking about picking up the bundle, nows the time.
Omegabundle for Xojo 2020 is a collection of the most useful tool sets, add-ons, digital books and components for use with Xojo Inc's Xojo development environment. If purchased separately and not including any additional offers, the total cost would be over $3,711.00. Omegabundle for Xojo 2020 costs $399. Buy now on the Paradigma Software store
Included Products
Ohanaware App Wrapper (UPDATED).Prepare your application for the Mac App Store or Web Distribution.
Ohanaware App Kit (NEW). A huge collection of declares and objects that Ohanaware has created over the years to help us with crafting better macOS applications. Your next macOS app starts here!
AprendeXojo GuancheMOS (UPDATED) The toolkit you need for application serialization and validation.
AprendeXojo AxControlGrid (NEW). Makes it possible to put Canvas-based controls in a Page or a series of Pages of a given size (width and height).
AprendeXojo AXImageCanvas Database Edition (NEW). Pull and display images from most popular databases.
AXNumValidatedTF (NEW). Locale settings, numeric range enforcement, adaptive format and more for numeric input.
GuancheID (NEW). The easiest way to get a unique ID for macOS and Windows based computers.
GrafittiSuite Desktop Edition (UPDATED). 53 (up from 40!) incredible user interface controls for Xojo that add value and improve the professional appeal of your Xojo applications.
XDL Library (UPDATED).Get some of the best articles from xDev Library, plus a 900-page new Xojo beginner's book.
MBS Chart Director for Xojo (UPDATED). Professional, interactive, real-time charts in your Xojo applications on Mac, Windows and Linux. Desktop, Console and Web projects.
MBS DynaPDF Starter Edition for Xojo (UPDATED). Create PDF files with your applications on Mac, Windows and Linux. Desktop, Console and Web projects.
Paradigma Software Valentina Studio Pro 10 (UPDATED). Ultimate reports designer, database administration and forms creation tool that runs on all three operating systems - Windows, macOS, Linux
Paradigma Software ValentinaDB ADK 10 for Xojo(UPDATED). Embed the ultra-fast, object-relational Valentina database into your applications and deploy royalty free - Windows, macOS, Linux, including Raspberry PI! Also works with local SQLite files and as a client to Valentina Server.
Paradigma Software Valentina Reports ADK 10 for Xojo(UPDATED). Generate visually rich reports as graphics, web pages or PDF from your Xojo applications on Windows, macOS, Linux including Raspberry PI! Also works with local SQLite files and as a client to Valentina Server.
Paradigma Software Valentina Server Unlimited (UPDATED). 4-in-1 Reports Server, Forms Server along with two database servers: one built on object-relational Valentina Database and the other on SQLite. Report and forms serving works with MySQL, PostgreSQL, MS SQL Server and the included Valentina and SQLite servers
xDev Magazine (UPDATED). 12-month subscription to xDev Magazine + some back issues + a printed book! xDev is the professional's magazine for developing with Xojo with articles by top Xojo developers.
You can learn more about Omegabundle for Xojo 2020 from the Omegabundle website. Please allow up to 3-5 business days for all components to be supplied by participating vendors. If you are ready to purchase, order now from the Paradigma Software web store.
About Omegabundle
Omegabundle is a circus tent promotion platform created by Proactive International, the international distribution company, and Paradigma Software, developers of the Valentina high performance development tools and technologies. Each promotion is for a single, vertical platform and provides extreme savings to users of professional tools. Participating vendors change from promotion to promotion and year to year.