AOP endpoint 42
What is "AOP.OutboxNotEmpty spu_queue_overflow_ep42" and why does it keep waking my Mac up?
Tuesday, February 21, 2023 - Sam Rowlands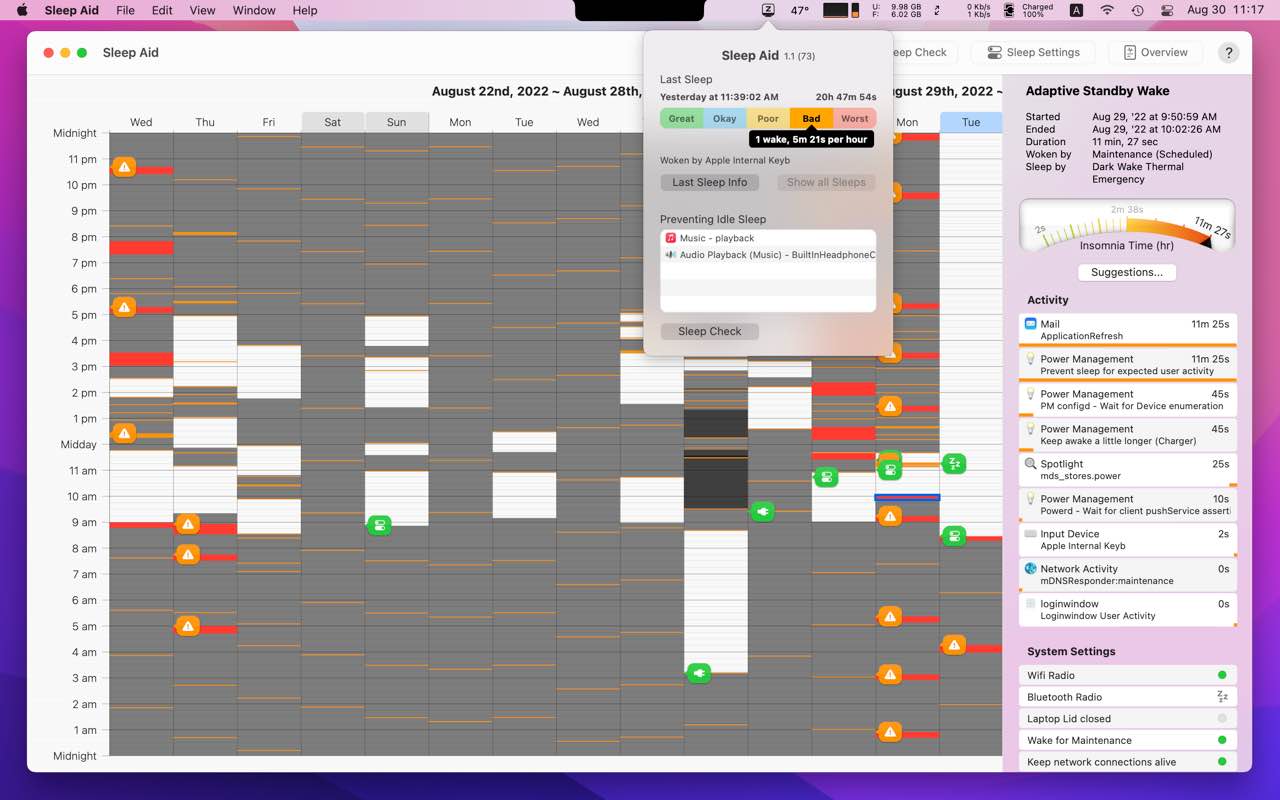 Some 14" and 16" M1 MacBook Pros get woken up by whatever this is, but the quest to find and slay this beast has been a long one.
I don't have one of these Macs, nor have I been able to find a way to rent one in Taiwan. I've resorted to queuing up tests, and running them when I travel into the nearest big city, which is 1.5 ~ 2 hours drive each way.
What is AOP.OutboxNotEmpty spu_queue_overflow_ep42?
At this point it is easier to say what I do know about this, as there is still a lot I don't know.
It identifies itself as a "AppleSPUHIDDevice", where HID typically stands for Human Input Device.
It uses the driver "com.apple.driver.AppleSPU".
I believe AOP means "Always On Processor".
I believe SPU means "Special Processing Unit".
On the machine I had access to, there was an entry "DebugState" which included messages such as "_num_events_after_wake" = 9773.
This information alone isn't helpful, lets see if I can find the driver, perhaps that will be more forthcoming?"
Finding "com.apple.driver.AppleSPU"...
Googling for "com.apple.driver.AppleSPU", results in many pages of crash reports related to sleep and wake, but I don't notice any resolutions, or any indication as to what this device is.
I did find a couple of pages which mention PowerMac G5 DP, so this may not be limited to M series Macs.
Spotlight comes up empty
Find Any File doesn't find it.
"sudo find / -name com.apple.driver.AppleSPU" returns 100s "Operation Not Permitted" results, pfffttt.
I didn't find it using [NSWorkspace URLForApplicationWithBundleIdentifier:]
"mdfind kMDItemCFBundleIdentifier = "com.apple.driver.AppleSPU" " did work and reported the driver is at "/System/Library/Extensions/AppleSPI.kext".
Poking the driver...
Looking at the driver in TextEdit (so I can see strings), I see references to various events or methods for AppleSPUHIDDriver, that gives an idea of what the device's functionality might be.
Compass
Thermometer
PMU Charger
Acceleratorer
Humidity Sensor
So which is it, or is it all of them... I don't know to be honest, my gut tells me it might be to do with the charger, as I couldn't imagine why the Mac would need to wake for any other reason. I do know that previous models will wake if the power state changes, i.e. connecting or disconnecting a charger.
Can anyone fact check for me?
Do you know for sure what "AOP.OutboxNotEmpty spu_queue_overflow_ep42" is and can let me know? Use the Contact Us page.